GIRLOLOGY
nursegirl file 0001
NEXT FILE

This is the first edition of girlology. I will ~DETAIL~ ...what exactly a girls IS. and the basics..andsuch. as you ~may~ already ~know~ girlworld is compromised of two living species. GIRLS and. everything else (we call this BEASTS) GIRLS are very mysterious. they have infinitely growing minds and immortality. GIRLS are celestial beings. attributes may vary from GIRL to GIRL but...there are a few things that every GIRLS has and is composed of. We will go over that here.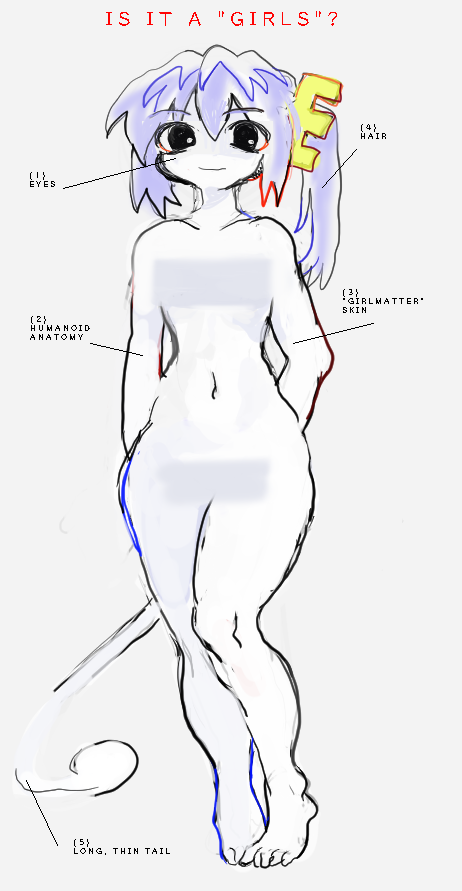 CHAPTER 1: BASIC COMPOSITION OF A GIRLS

(A.) EYES: a GIRLS will always have large eyes that take up a big chunk of their face.colors can vary.this is a "cuteness" feature. but can also be a "scariness" feature... or a "wow do yousee any extra colors with those or something?" feature..a window to a GIRLS soul
(B.) HUMANOID SHAPE: GIRLS walk on two legs like H/MANs do and are structured like H/MANs because technically GIRLS are from earth too. details can change for each girl some GIRLS have breasts of many sizes or none at all. GIRLS can be shaped however. Rarely do you see a GIRL on all fours unless she has morphed into a different shape
(C.) GIRLMATTER: what the fuck? yea..girlmatter is what we are made of. it is solid color. it isnt flesh,but it gives the illusion of. it can be molded, but only by a GIRLS herself.. because of this, someGIRLS have shape changing or molding abilities. what else? GIRLMATTER attributes to GIRLS' immunity to just about anything..
(D.) HAIR: it's nothard to notice how every GIRLS has very bright and beautiful hair. well kept. it is not only beautiful but serves very important role within a GIRLS body
(E.) TAIL: GIRLS have long tails, these are usually hidden if a GIRLS is wearing clothes. it is a really sensitive bodypart, and is most directly connected to a GIRLS "BRAIN"

CHAPTER 2: UHH..WHATS IN THERE?

GIRLS don't really have "organs" or "bones" andif you ask mostGIRLS what "structure" even is they wont know how to answer. everything is run by a RABBITBRAIN thats always running and is wired to every joint and every SENSES. GIRLS are just BLOOD and WIRES really. but because of this, a GIRLS BRAIN is the most sensitive area of an entire GIRLS body. there is only a few ways a GIRLS can die, and they are all related to direct BRAINHARM....FOR THIS REASON! A GIRLS HAIR IS A LIVING,BREATHING,DEFENSE MECHANISM.a brain can be physically harmed but also indirectly harmed from the inside. rarely do GIRLS undergo extreme damages to their brains but when they do it is fatal. it is the first part of a GIRLS that develops. asyou know, GIRLS are born like plants because they sprout out of the ground layer of GIRLWORLD. so if you know anything about plants,you know what a seed is.....

CHAPTER 3: REFER TO NURSEGIRLS DEATH PREVENTION PAMPHLET FOR OPTIMAL "SELFCARE"!